Submitted by

pablo.franzolini

on Fri, 2015-06-05 10:01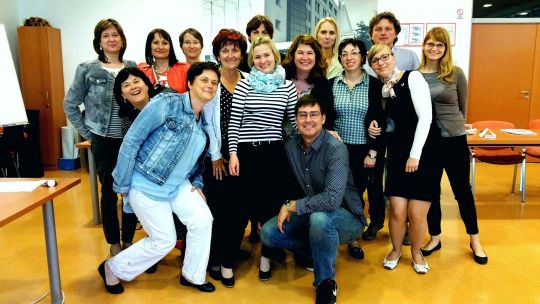 On Friday, 29th of May 2015 the first multipliers workshop on peer coaching and e-coaching (online-coaching) was presented by Pablo Franzolini (ENZYME) and Carmen Wolf (KIT) to the participants of the Training Center at the ZRSZ (PES Slovenia) in Ljubljana. This was organized by EmployID members Urša Dolinar (ZRSZ), Barbara Gogala (ZSRZ), Sebastijan Primc (ZRSZ), and Gordana Kamnik (ZRSZ), Head of the Training Center. The workshop was a great opportunity for the EmployID project to gather feedback on the peer-coaching concept and to start the process of the peer-coaching concept integration into a PES organization.
After finding out, what participants expect from the workshop, there was a brief introduction into coaching- Next, the EmployID peer coaching core skills (emotional awareness, active listening, powerful questioning, powerful feedback (mirroring)) were explained and paired with exercises, practical examples, and experience reports. Peer coaching was defined and characteristics of this specific coaching setting were elucidated. The EmployID peer coaching concept was tried out on the spot in a small learning groups. A fruitful discussion on how to do coaching online and how to proceed with the cooperation followed the trail.
The participants were very eager to learn about the peer coaching concept, core skills of peer coaching and e-coaching. With almost all of them being experienced and professional certified coaches, the feedback was very positive and we are more assured that we are on the right way and what we are developing is accepted and relevant. They were very open to the idea of trying the peer coaching online. According to the feedback given at the end of the workshop and on the evaluation sheets, the workshop was a full success. Especially gratifying was an outcome, when one of the participants later that day informed the involved EmployID members, that she already solved her problem with the solution she found during the exercises on the peer coaching concept! We are very happy that we could be of support with that!