Submitted by

pablo.franzolini

on Wed, 2018-04-25 16:07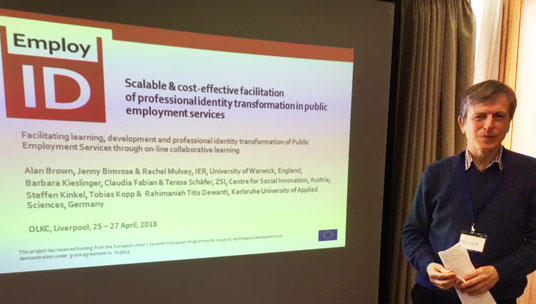 Dr. Alan Brown and Dr. Jenny Bimrose presented the paper "Facilitating learning, development and professional identify transformation of Public Employment Services staff through on-line collaborative learning". It focused on the two MOOCs implemented by EmployID at the Department of Work and Pensions (UK), and an international MOOC for PES practicioners, where advantages and weaknesses where explored, to reflect about the adoption of the approach with PES practitioners and an international community of practice.
In conjunction with the OLKC conference, The Learning Organization (TLO) journal will publish a special issue that includes papers submitted to and presented at the conference, connecting to the main theme of the conference – Learning to Make a Difference, which contribute to our understanding of organizational learning and/or learning organizations.