Enzyme Advising Group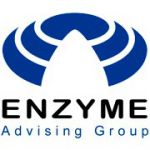 Enzyme Advising Group is a professional services firm that provides customized software solutions, consulting services and technological advice, in order to improve business performance and enhance value for its customers and stakeholders. We want to be a reference and link between the business and technological innovation, and for that we have a talented group of developers and consultants that are also trained on learning technologies and coaching practices.
We work with key performance indicators to understand what improvements do the clients want to achieve as results for the users, from there we focus on the areas of intervention, to understand the context where the users of solutions will be working and evolving and work with them to introduce the improvements.
At Enzyme, we have proven with a rapid growth in business that the approach of guiding self-directed learning (or coaching) is of great help for creating the required motivation for the clients to engage on the development and implementation of change at technological, human and procedural level.
We believe that innovation is more than developing software, it's developing breakthrough technologies and best practices that serve the users and create a better reality for the business and the people working on it. We are used to help our customers transform their businesses, to expand and optimise their operations, improve the quality of their services and create new relationships with customers, employees and suppliers, which allow them to build a enabling it to build a profitable model of sustainable value, which aligns with the objectives of EmployID. Enzyme forms part of the Nexe Group which works for leading companies with complex territorial structures (type and size) which focus directly or indirectly, on the sale of products and services to end customers in times of improvement, refocusing on the activity or adjusting the structure.
Web site
Key persons
| | |
| --- | --- |
| | |
Jordi Fernández is the eLearning Manager at Enzyme, and will be the leader of WP6 activities. With a computer Engineer degree he has many years of experience in managing change in organisations with technology implementation and training solutions. Specialties: Learning Solutions and development for HR departments and business development. Planning, architecture and integration of systems and processes. Application of technology to business objectives
| | |
| --- | --- |
| | |
Alvaro Ortín is the CEO of Enzyme Advising Group. He will be supervising the developments efforts from Enzyme at EmployID. Alvaro has the belief that open source solutions like the ones proposed in EmployID are the future of the industry, as community based open source efforts have produced productive and economically effective initiatives and Alvaro believes EmployID will be one of this initiatives on a sector traditionally reluctant to embrace open source solutions. At Enzyme, his main responsibilities include the overall management of the company, implementation of high-level strategies and management of Enzyme´s operations, staff, company finances and resources. His specialities are Consulting IT-System, high-level negotiation, IT architecture, banking cash pooling, competitive analysis, funding, develop startup companies, Netweaver-SAP, Oracle cloud, Spanish internet market.
| | |
| --- | --- |
| | |
Pablo Franzolini has been co-coordinating two large R&D funded projects (MATURE and LAYERS) and he will be leading the WP9 in order to contribute to wider impact and real sustainability of the results of EmployID. His latest R&D efforts focus on guided self-learning paths, motivation and how Web2.0 technologies enhance autodidactic learning for growth and sustainability. He is an Economist with a M.Sc. in Analysis Design and Management of Information Systems from the London School of Economics and Political Science.
| | |
| --- | --- |
| | |
Harald Messemer is the COO of Enzyme Advising Group. Harald has more than 15 years international IT experience in blue chip companies such as Deutsche Bank, Gas Natural, Volkswagen Audi and Gallina Blanca. His skills are mainly in project management, requirements engineering, corporate portals, enterprise IT architecture, software development, agile methodologies and RFQ elaboration and answering. Harald´s role in the project will be to ensure the correct use of methodologies and coordinate aspects of the technical architecture and implementation.
| | |
| --- | --- |
| | |
Imma Salmeron, Enzyme´s Marketing Manager, has over 10 years' experience in external communications, event management and digital marketing. Her role in the project will be to offer support in WP9 disseminating and communicating the results of the project through participation in conferences, organisation of events and distribution of press releases.
| | |
| --- | --- |
| | |
Cyril Renard is an engineer specialised in research and development and holds a PhD in Mechanical Engineering. He has over 10 years' experience in Business Predictive having worked at Applus, one of the world's leading testing, inspection and certification companies, as scientist responsible for the technical department and at Airbus as a mechanical engineer. His role in the EmployID project will be to investigate market trends and technologies, develop innovative Business Predictive and Business Analytics and establish relationships between the universities involved in the project.
| | |
| --- | --- |
| | |