Department of Work and Pensions, United Kingdom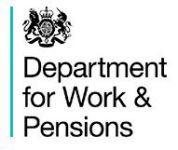 The Department for Work and Pensions is responsible for welfare and pension policy and is a key player in tackling child poverty. It is the biggest public service delivery department in the UK and serves over 20 million customers.
DWP's key objectives include
Increase the effective supply of labour by promoting work as the best form of welfare and helping unemployed and economically inactive people move into employment. .
Help people facing the greatest barriers to employment to compete effectively in the labour market and move into and remain in work. .
Ensure that people receiving working age benefits fulfil their responsibilities while providing appropriate help and support for those without work.
Web site
Key persons
Organization:

Department of Work and Pensions, United Kingdom



Head of Technical Learning responsible for all technical training design and delivery and member of cross government working group for Operational Delivery Profession Support from Civil Service Learning. Diane has 33 years of operational, corporate centre and L&D experience in DWP and manages a team of design and delivery professionals in locations throughout Great Britain.
Organization:

Department of Work and Pensions, United Kingdom



Enablers Manager responsible for financial monitoring, management Information and all enablers services to support the design and delivery of technical learning. Angela has extensive experience of learning design for large scale projects, managing learning and development and evaluation of learning. She also has operational experience of delivering Jobcentre Services.
Organization:

Department of Work and Pensions, United Kingdom



Lead for L&D for Work Services, supporting front line Jobcentre Advisory Services Teams and Employer Facing job roles. Extensive experience of senior and practitioner stakeholder engagement throughout the Work Services business area to understand the critical customer requirements relating to L&D. Worked collaboratively with operational colleagues to scope those requirements into a staged tactical and strategic approach to achieve immediate short term benefits and provide a platform to build a modernised, sustainable approach to support continuous development and digital confidence. Maximised buisness knowledge and subject matter expertise using a dedicated Task and Finish Group to inform recommendations for a successful launch of a Modern Advisory Services L&D brand underpinned by milestones for warranty and evaluation activity to inform ongoing continuous improvement activity. Accredited Lean Practitioner & currently on the Lean Expert routeway with lead responsibility for building and sustaining lean capability within Operational Learning Design.
Organization:

Department of Work and Pensions, United Kingdom



Organization:

Department of Work and Pensions, United Kingdom